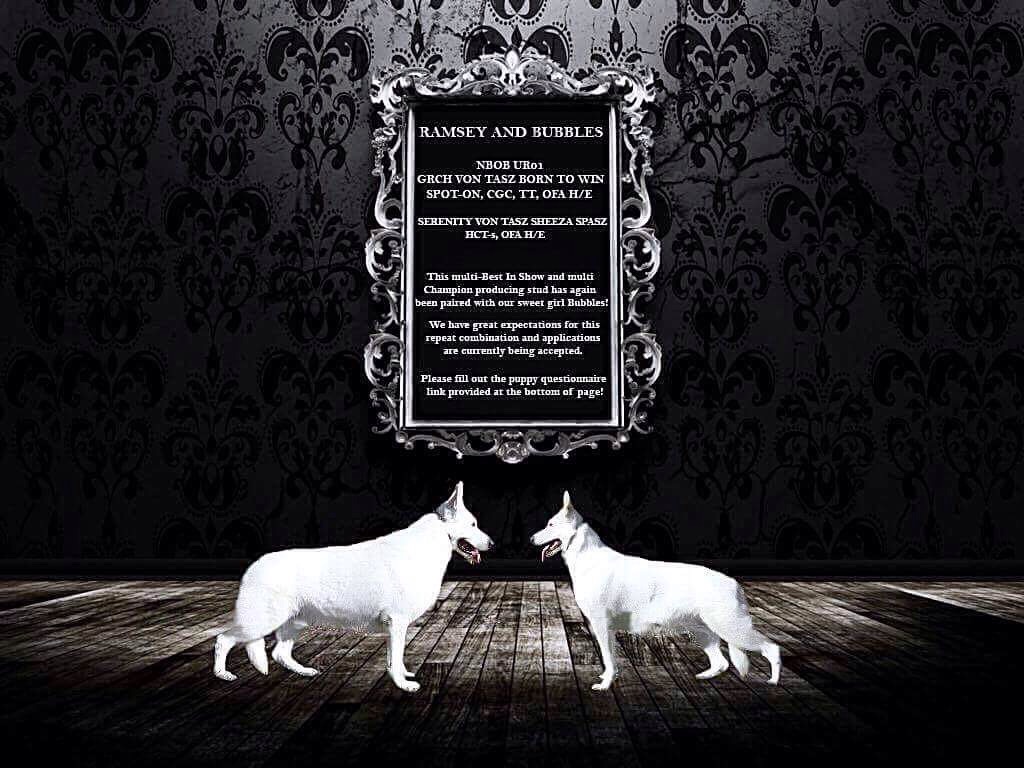 PRESONAL NOTE: The first breeding between Ramsey and Bubbles was something that I had dreamed of. I anticipated their offspring to represent beauty, brains and brawn. And, I was not disappointed! Thanks to the help of my hubby, I was able to get these updated photos on October 22, 2017 - exactly 1 month before Ramsey's 10th birthday and about a month and a half prior to Bubbles 4th birthday!
This repeat breeding is expected to again produce exceptional breed standard representatives - happy and healthy, alert with good drive, high performance aptitude and herding instinct. Each pup will be ready to become a devoted partner and to be trained in general house manners, performance, herding and/or other working venues. Of course, they will, first and foremost, be a wonderful family companion.
Ramsey is a top winning UKC National Best of Breed Grand Champion/AWSA Multi-National Specialty Best of Breed/#1 Best of Breed Champion/WSCC National Specialty Best of Breed Champion, Multi-Best in Show winner, Rally Obedience titled (with top placements), multi-Total Dog Award recipient, Temperament Tested, has passed a myriad of health clearances and produced multiple Champion and performance titled offspring. Ramsey has a pure white coat, very dark eyes and excellent pigment.
Bubbles is my hubby's "little girl" and has many jobs including co-pilot of our golf cart for all outdoor chores, co-pilot in our Jeep Wrangler while hubby is snow plowing, and watching evening TV up on the bed. In her spare time, she earned a UWSC Specialty Show Best Puppy, a AHBA Sheep Herding title, received OFA EXCELLENT hip honors and "top of the chart" PennHip scores, etc. Bubbles also has a pure white coat and very nice black pigment including a black pigment spot on her tongue (a family tradition, so to speak).
Both Ramsey and Bubbles have fun loving temperaments and personalities. They are easy going and always smiling. I am so blessed to have found this breed so many, many years ago.
Thank-you for your consideration!
Yours for the WHITE SHEPHERD,
Diana

Please fill out the puppy questionnaire that can be found via the link below:

Puppy Questionnaire