Von Tasz Shepherds
** Hugo x Kyla **


Puppies due November 2007!



If you are looking for an exceptional family companion, an obedience or perfomance prospect, a show prospect, or a stud dog or brood bitch to enhance your breeding program, this combination just may be your answer.

These pups are spoken for, however,

Hugo

Both Hugo and Kyla have all of their hip/elbow clearances and are champion titled. (see their Info Page for details)

Hugo is 7 years old and has sired many exceptional puppies. And, that is why he was perfect for this first time litter with Kyla. Hugo is larger than what the breed standard calls for in a male, however, he is well proportioned and is an excellent moving dog. He has medium drive and is very easy going. His coat is white and he has jet black nose/facial pigmentation. He is a very handsome guy! FLASH: Hugo won Best of Breed, Best Opposite Sex and Select 2 over the 3 day 2007 AWSA National Specialty weekend!!

Kyla is a medium sized female. She has a white coat and black nose/facial pigmentation. What makes Kyla very unique is that she has a beauty mark on her right shouldler (see her main page for details). She has medium to high drive and loves to smile as well as herd sheep. She's a very happy girl.

This combination should produce loving, easy going, highly trainable offspring. If you think this may be the combination that you've been waiting for, please fill out the Puppy Questionnaire (link towards the top of the page).



Kyla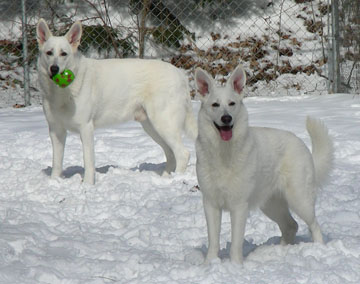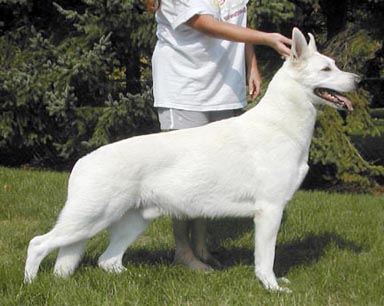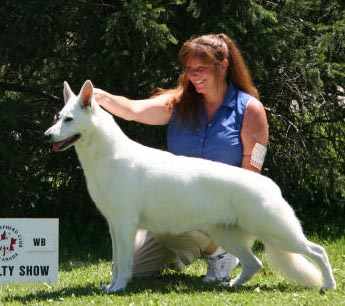 This is a photo that was taken of Hugo and Kyla this past winter. Kyla is smiling (as usual) and Hugo is carrying a ball (as usual) - LOL!!